Are you looking for a small sedan that's modern and dynamic as well as reliable enough to take on your journeys far from Montreal's South Shore? We are tempted to tell you that the
2016 Yaris
is the one that you want since the 2016 Car Guide gave it a 100% rating. However, for the sake of fairness, let's compare it with a sedan that earned a decent rating of 80%: the 2016 Versa.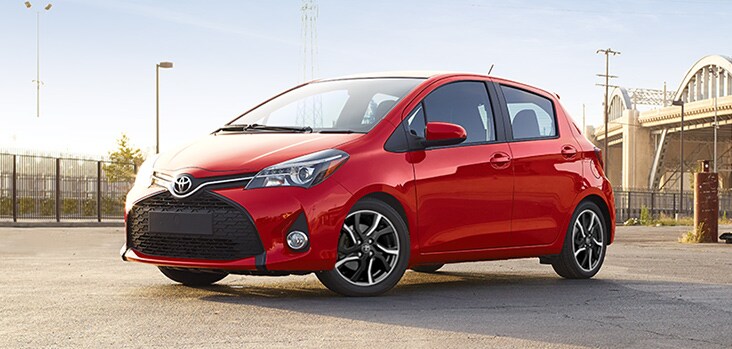 We decided to compare these two vehicles since they are similar in many ways and are often popular with consumers in Longueuil. First of all, they are sold for essentially the same base price. Actually, the 2016 Yaris is offered at $ 14 940, while the 2016 Versa costs around $ 14 498 in St-Constant and in Brossard.
Next, thanks to their 4-cylinder engines, they reach almost identical powers of 106 horsepower (2016 Yaris) and 109 horsepower (2016 Versa). Finally, as well as having comparable prices and performances, they consume the same amount of gas in the city, that is 7,7 L/100km.
Therefore, it's the reliability rating where they really differ. Why do folks in Brossard, St-Constant and Longueuil put their faith in the 2016 Yaris? Quite simply because it offers more than 6 advanced technologies that help you avoid accidents.
Dynamic stability control, anti-lock brakes, traction control, electronic brake force distribution; you name it, it has it! It also has front seatbelt pre-tensioners as well as front and rear head/side curtain airbags. In short, as you can tell, it easily earns its 100% rating and will follow you in your travels without misadventure!
So, as much as the 2016 Versa is a very nice car, the 2016 Yaris is the one that you need on Montreal's South Shore. The 2016 Yaris, as well as being reliable, is also a great value, made with high-quality materials and has a bold exterior. Come to Candiac Toyota and take advantage of our
Toyota promotions
as well as our
Toyota financing
.