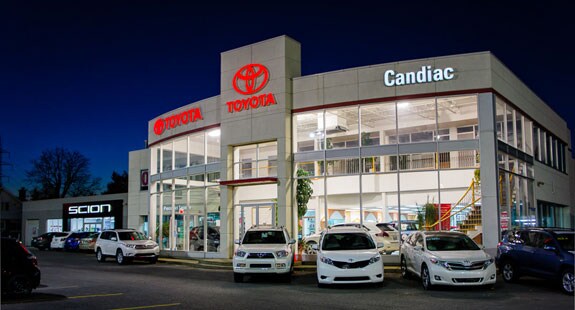 There lies a long history behind the neon sign at Candiac Toyota. Candiac residents settled in this town for over 40 years will recall the first steps of this reputable dealer and they will have witnessed major transformations that have changed his vocation.
Thus, in 1956, Gustave Schlegel father, now deceased, operates with the support of his wife, Agnes and their children Gustave Jr, Heinz, Claude and Madeleine, a station located in Candiac where he also performs repairs and sells used cars. 
In November 1964 Gustave jumps forward and joins the Chrysler Dodge banner. Thus was born the dealership Lucerne Automobiles which sells new and used American cars. With strong family business experience in the first franchise, the Schlegel family decided to further expand its horizons and installs in 1980, next to its existing business, another dealership under the Toyota banner. Thus, customers can now choose between two products, one American, the other Japanese.
In June 1990, at the crossroads, the Schlegel family must transition and choose between American or Japanese car. The ever-growing popularity, product reliability and quality of service offered by the Toyota name tipped the balance towards the latter and thus decide to close Lucerne Automobiles.
In November 2010, the company adds a second brand to its premises, it adds the Scion brand, targeted at a younger market. This new brand, under the Toyota family, brings new energy to this history business,
Thus, Candiac Toyota offers in its service department 11 service bays to serve its customers quickly and efficiently. Customers can only be satisfied and always return to this emblem, pledge of Toyota quality. Candiac Toyota's showroom displays up to 15 different vehicle models for the enjoyment of guests looking to find the gem that will make them happy. About 45 employees work in the company that is committed to promote local hiring. Whether it be purchasing a new or used, the client is served with respect and honesty by a formidable and competent team in sales, service, parts and bodyshop.